CHRISTMAS & NEW YEAR SERVICE
Please note that we will be closed for Christmas and New Year, from 12 midday on Tuesday 19th December until 9.00am on Tuesday 2nd January 2024. We thank you for your business over the last year and wish you a Merry Christmas and a happy and prosperous 2024.
Optional Delayed Payment & Delivery…
1) Simply place your order now and pay just a 1/3 Deposit.
2) If you wish, choose when, in 2024, you'd like to have your Outdoor Cushions delivered.
3) We'll make your Bespoke Outdoor Cushions in the coming weeks, store them safely, but you don't need to pay your outstanding 2/3 Balance until your chosen delivery date!
Our incoming phone lines are open 10.00am to 1.00pm and 1.30pm to 3.00pm, Monday to Thursday only, however, we are all here working full, normal hours, i.e. 9.00am to 5.00pm Monday to Friday, so if you need to email, or leave a voicemail, we will gladly respond promptly.
About our bespoke Outdoor Cushions
At

The Outdoor Cushion Co.

we have the experience and skills to ensure we create for you bespoke outdoor cushions of the highest quality, made exactly to your specifications.

Brand New Outdoor Cushions… or Recovered?
Brand New Cushions
The vast majority of the work we do is to create complete brand new Outdoor Garden Furniture Cushions. By choosing our 'Reticulated Foam' cushion filling and having it covered in one of our high performance fabrics, we can create for you Outdoor Furniture Cushions that can be left outside permanently, in all weathers, Rain or Shine!​

Our non-commission staff are very happy to explain various options and prices to you in regard to choice of filling, choice of fabric, choice of trim etc. all in a professional, no pressure manner.
Perhaps you have some smart outdoor furniture that is not looking its best due to the original cushions looking tired. Or maybe there's an area of your garden, patio or terrace that's crying out for comfortable bespoke Outdoor Cushions to add the finishing touch!
To view our range of 600+ searchable Outdoor Fabrics, click below to go to our unique…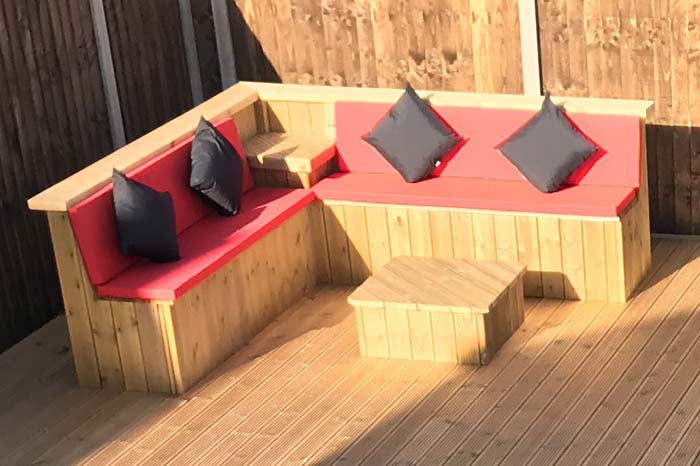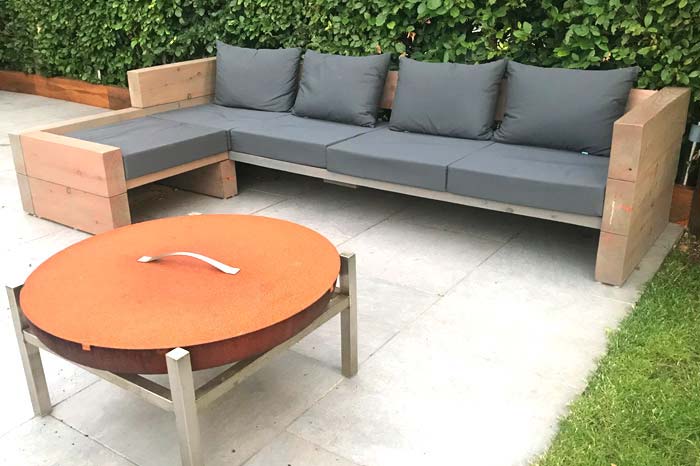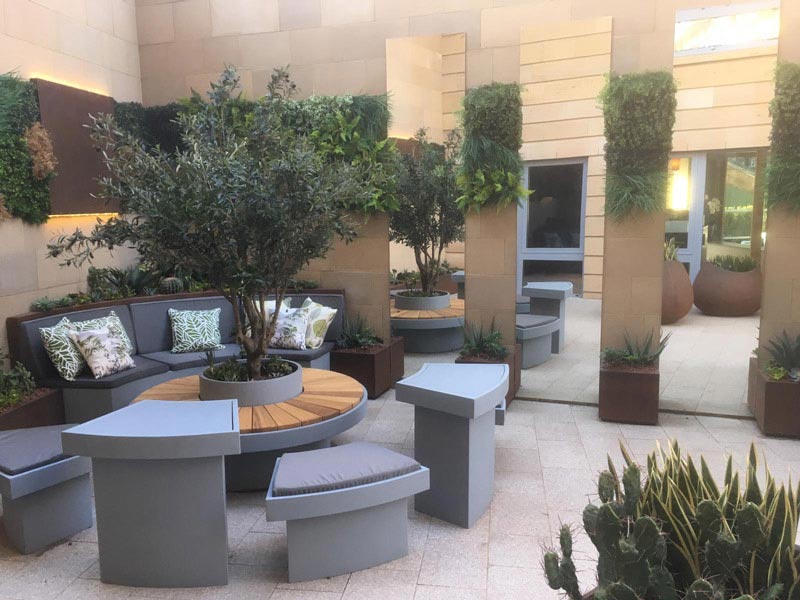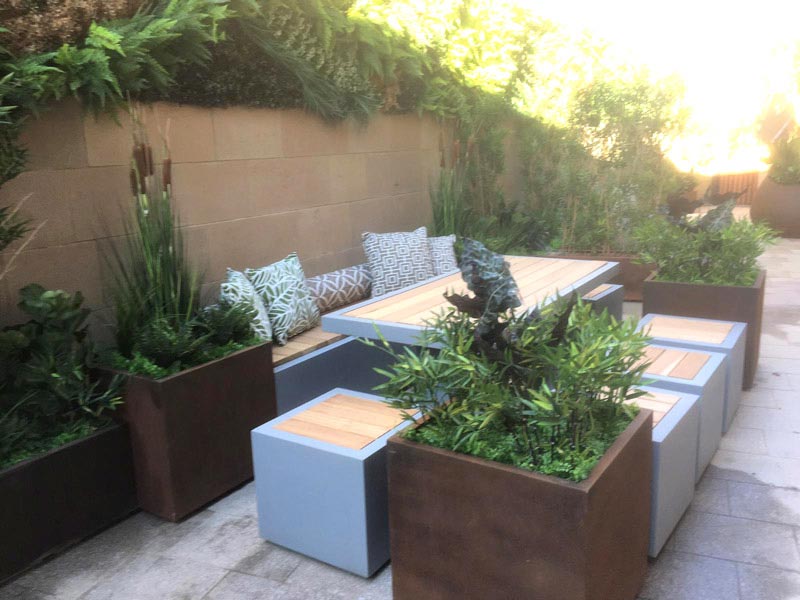 If you would like us to make you brand new bespoke outdoor cushions in your choice of filling and cover them with professionally made-to-measure covers, in a choice of water repellent fabrics, then we would be delighted to show you what we can offer.
To view our range of 600+ searchable Outdoor Fabrics, click below to go to our unique…
We were extremely pleased to have been given the order to create 8 made-to-measure water repellent outdoor cushions for the unique stone built garden seating area shown above (right). As you can see our customer needed the new cushions to be shaped to fit around the 'arms' of the seats. They chose one of our plain brown water repelling fabrics and the cushions have matching piping to the edges.
Below (left), we used our customer's original cushions as a pattern in order to make brand new ones in his choice of fabric.
Recovered Cushions
If you have existing outdoor cushions where you are entirely happy with the original fillings and simply want us to recover them, then this is normally not a problem. We have a very wide range of high performance fabrics to choose from and we are very happy to guide you as to what would be the most suitable type of fabric for the project you have in mind.
Please note that this site is specifically designed for

RETAIL CUSTOMERS.

If you are a Trade/Commercial visitor, then please visit our dedicated Outdoor Cushion

TRADE WEBSITE

instead…

As featured in: